Philadelphia Center City District Restaurant Week is back. Restaurant week begins Sunday September 10 and lasts until Tuesday September 19. With over 100 restaurants participating in 3 course dinner specials for $35.00 and some having $25.00 lunch specials it can be a tad overwhelming to know where to go. I suggest perusing the menus and offerings via https://www.centercityphila.org/explore-center-city/ccd-restaurant-week before booking reservations using Open Table.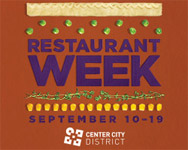 Also, for the first time this year includes a Saturday date, unlike previous years. Make it date night, a family fun night or a girl's night out, but make sure you go to at least one restaurant during this nine day long promotion. Although the $35.00 price point does not include tax, gratuity or drinks, it is too good of a deal to pass up before the cold winter month's storm in. What better way to end the summer then enjoying the city with good food, fun and friends?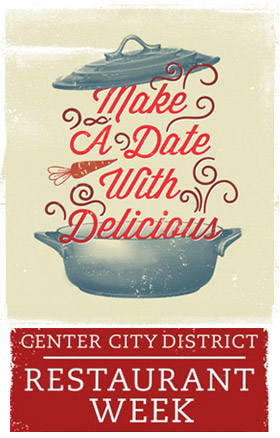 Don't love looking for parking and the busy buzz of center city? Don't worry, there's a restaurant week for you too. On Thursday September 14th Main St. kicks off its very own restaurant week starting with its Street Food Festival. The Street festival will be from 5:00-10:00p and have offerings from over 25 featured food trucks. Enjoy the quiet hills of Manayunk as you shop, dine and enjoy live entertainment.

The festival rolls right into Restaurant Week that begins Friday September 15th and goes until Thursday September 28th. Manayunk restaurant week includes seven of Main Street's fine restaurants with $15.00. $25.00 and $35.00 dinner or lunch offerings.
For more information about the Street festival or Manayunk restaurant week visit their webpage here: http://manayunk.com/news-and-events/events/fall-streat-food-festival.html
By Lissa-Marie S. is a Philadelphia based Event, Culture and Personal Blogger. For more information on upcoming events and other pieces visit her site at www.Lissa-Marie.com
FOLLOW HER ON SOCIAL MEDIA!!
https://m.facebook.com/LissaMarieS/?ref=bookmarks
https://www.instagram.com/lissamaries/
https://www.linkedin.com/in/lissa-scott-63038a86/